Hugo Boss On The Go Spray Fresh EDT 100ml Tester Pack - Boss Bottled / Hugo Boss / Boss Bottled Tonic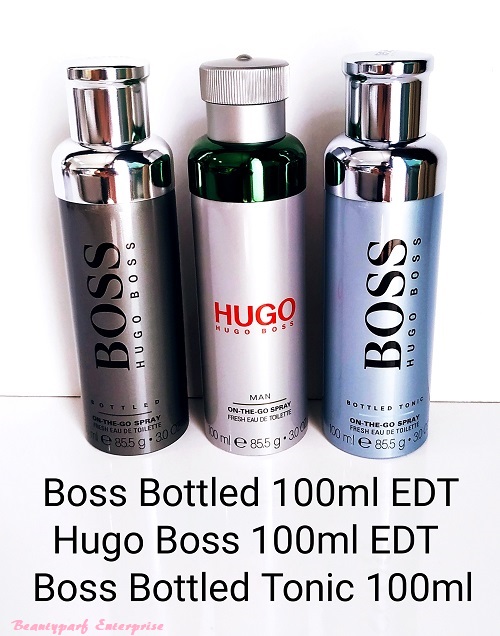 HUGO BOSS BOTTLED ON THE GO SPRAY FRESH EDT 100ML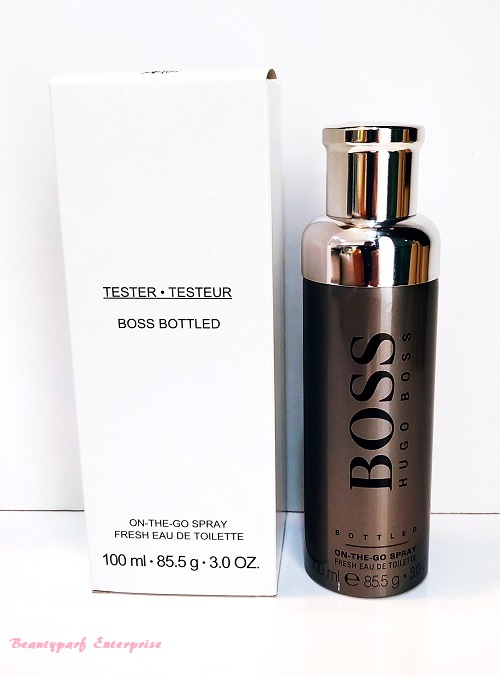 BOSS Bottled on-the-go spray, packaged in a 100ml unbreakable aluminium canister for contemporary attitude. The durable canister is fitted with a completely air-powered function, delivering a fresh eau de toilette fragrance combining long-lasting citrus and intense wood notes. Add a modern flavour to everyday life with this easily portable scent.

HUGO BOSS BOTTLED TONIC ON THE GO SPRAY FRESH EDT 100ML

BOSS Bottled Tonic on-the-go spray, packaged in an unbreakable 100ml aluminium canister for a modern effect. The fresh eau de toilette inside the durable canister is 100% air-powered, delivering intense fragrance without the use of propellants. Ideal for active days, this invigorating scent combines citrus essences and wood notes.
HUGO BOSS MAN ON THE GO SPRAY FRESH EDT 100ML

A portable interpretation of the HUGO Man scent, encased in an unbreakable aluminium canister. Free from propellants, this 100ml invigorating spray is powered by air to deliver long-lasting fragrance. Spray it any where, any time, for a hit of HUGO attitude on the go. This fragrance has the signature Hugo Man Fresh Eau De Toilette green apple note. Created for urban man on the move.