Calvin Klein - CK Eternity Women Vial 1.2ml EDP Spray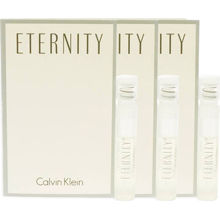 1.2ml Vial Spray – Ideal for keeping in bags for travelling or for trial purpose.

ETERNITY, inspired by the ideal of lasting love and intimacy, is a romantic floral fragrance. This harmonious blend of both classic and contemporary scents is a perfect combination, created to reflect timeless quality and modern style.
"As long as intimacy goes on, so will Eternity." – Calvin Klein.
Notes:
Freesia, Mandarin, Sage, Muguet, White Lily, Patchouli, Sandalwood.
Style:
A scent of romance and endless luxury