Chloe 6pcs Perfume Vial Collection 1.2ml Spray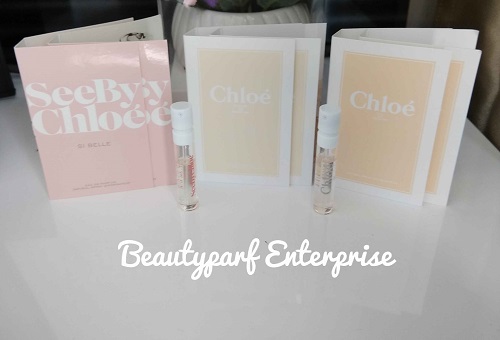 CHLOE FLEUR DE PARFUM 1.2ML EDP SPRAY X 2PC

CHLOE SIGNATURE 1.2ML EDT SPRAY X 2PC
CHLOE SEEBY SI BELLE 1.2ML EDP SPRAY X 2PC

1.2ml Vial Spray – Ideal for keeping in handbags for travelling or for trial purpose.

Chloé Fleur de Parfum appears in July 2016 as a new edition of the popular rose fragrance Chloe Eau de Parfum from 2008. Chloé Fleur de Parfum retains the character of the original with additional "flower charm" in an attempt to display a rose bouquet in powdery beige. It is described as a naturally elegant and sensual veil that covers the skin.
The perfume allegedly contains rose pistil. With pistil rose and its fruity and spicy undertones, the additional accords include fresh and sparkling verbena blossom, almondy cherry blossom and powdery rice.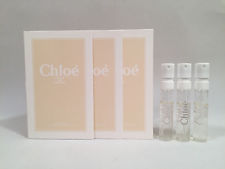 1.2ml Vial Spray – Ideal for keeping in handbags for travelling or for trial purpose.
CHLOE SIGNATURE 1.2ML EDP SPRAY
Capturing the spirit of women, the Chloé vision is not about one singular woman, but rather about the rich and varied personalities of all Chloé women. This fresh, smooth floral fragrance evokes sublime powdery rose. The effect is chic, comfortable, and entirely addictive.
Top notes of pink peony, freesia, and lychee embody subtle freshness. At the heart, midnotes of magnolia flower, lily of the valley, and rose rise to sublimated femininity. A base of velvety elegance comes to fruition through cedarwood, amber, and honey.
Inspired by the details in Chloé's fashion, the flacon's heavy but softly curved and grooved glass reflects femininity and strength. The plated-silver top is embossed with the Chloé mark and adorned with a hand-tied ribbon.
Notes:
Pink Peony, Freesia, Lychee, Magnolia Flower, Lily of the Valley, Rose, Cedarwood, Amber, Honey.
Chloe Seeby Si Belle 1.2ml EDP Vial : See By Chloe Si Belle Perfume by Chloe, Spray some see by chloe si belle on your wrists and neck to experience the light, floral aroma of this soft fragrance. Created in 2015 by the design house chloe, this fragrance was designed with the truly feminine woman in mind. The orange blossom and gardenia blend together effortlessly while the cucumber note adds a refreshing touch.