Chloe Fleur De Parfum Women Vial 1.2ml EDP Spray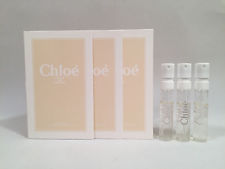 1.2ml Vial Spray – Ideal for keeping in handbags for travelling or for trial purpose.
Chloe Fleur de Parfum 1.2ml EDP Vial : Chloé Fleur de Parfum appears in July 2016 as a new edition of the popular rose fragrance Chloe Eau de Parfum from 2008. Chloé Fleur de Parfum retains the character of the original with additional "flower charm" in an attempt to display a rose bouquet in powdery beige. It is described as a naturally elegant and sensual veil that covers the skin.
The perfume allegedly contains rose pistil. With pistil rose and its fruity and spicy undertones, the additional accords include fresh and sparkling verbena blossom, almondy cherry blossom and powdery rice.