Exclusive 6pcs Men & Women Mix Vial Spray Set
1.2 - 1.5ml Vial Spray – Ideal for keeping in handbags for travelling or for trial purpose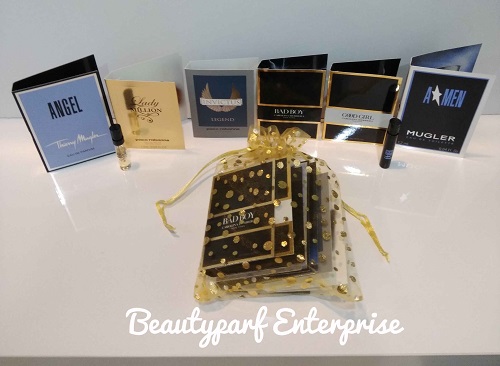 This 6pcs Travel Pack Consists Of:

Thierry Mugler Angel Women 1.2 EDP Spray X 1PC

Paco Rabanne One Million Women 1.5 EDP Spray X 1PC

Paco Rabanne Invictus Legend Men 1.5 EDT Spray X 1PC

Carolina Herrera Bad Boy 1.5 EDT Spray X 1PC
Carolina Herrera Good Girl 1.5 EDP Spray X 1PC

Thierry Mugler Amen For Men 1.2 EDT Spray X 1PC

Organza Gold Dots Pouch X 1PC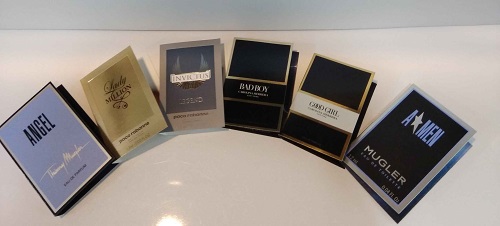 Thierry Mugler Angel Women - Angel is an addictive fragrance with airy fresh facets, delicious mouth-watering aromas and mysterious notes that capture the essence of sensuality. Angel evokes the emotion of joyful memories with a sense of dreamlike infinity.
Mugler Angel is a glamorous fragrance for the woman who is half-angelic and half-devilish.
Paco Rabanne One Million Women - Vibrant and sensual, Lady Million is like a voluptuous nectar of flowers. Powerfully seductive, the sparkle of bitter orange and a hint of raspberry reveals the fragrance's first breath. Smooth and bright, a burst of neroli follows. Then the lethal weapon: heady orange blossom slips out of its sheath. Its narcotic sweetness then reveals itself, bewitching and demanding all attention. Joining with sambac jasmine and underlined by gardenia, the blend soars into something more carnal—yet ever subtle. Now the obsessive pulsing of patchouli enters the fray, pacifying notes of honey with an addictive and supremely tempting sweetness. Amber endnotes become all enveloping, floating around like a ray of light on a diamond.
Paco Rabanne Invictus Legend Men - The ultimate hero made for victory. Burning like desert heat, Invictus triumphs effortlessly and speeds towards glory. Two forces clash in a blazing duel. Fresh adrenaline rides a whirlwind of hot woods for a fragrance with power—thrilling like victory.
Carolina Herrera Bad Boy - Bad Boy Eau de Toilette is a fragrance of layered notes inspired by the Bad Boy's complexity and harmoniously combined for a distinctive blend of modern sophistication. With top notes of Black Pepper, White Pepper & Italian Green Bergamot, middle notes of Cedarwood and Sage and base notes of Tonka Beans and Absolut of Cocoa, this fragrance is at once strong and sensitive, confident and relaxed.
Carolina Herrera Good Girl - Born out of the beautiful contradictions of the modern woman, the Good Girl fragrance effortlessly celebrates the different sides of your personality. Notes of jasmine highlight your brightness and femininity while richly fragrant cocoa and intoxicating Tonka bean capture your deeper, more daring side. Whichever elements you identify with, this elegant fragrance is unignorable
Thierry Mugler Amen - Angel Men, the first perfume for men by Thierry Mugler, offers an unexpected shock of woody and fiery notes.
When creating Angel Men, Thierry Mugler was inspired by a vision of an imaginary hero moving through a legendary universe in which the past, present, and future merge.
Notes:
Lavender, Bergamot, Helional, Aldehydes, Peppermint, Roasted Coffee, Patchouli, Caramel, Tonka Bean, Tar, Musk, Vanilla, Chocolate.

Style:
Virile. Masculine. Clean.