Mont Blanc Men Top Sellers Refilled In 5ml Spray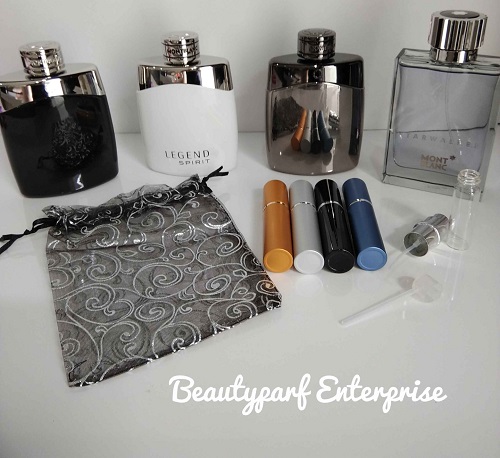 MONT BLANC LEGEND MEN:
Legend man is confident and charismatic; he is effortlessly seductive and lives his feelings. Mont Blanc Legend Eau de Toilette is the incarnation of a resolutely masculine fragrance, both modern and timeless, with depth, modernity and the right amount of discreet mystery.
A fresh fern with top notes that are lively, bright and clean; magnetic heart notes with a woody-floral tone; and a dry down with an unforgettable signature of tonka beans and sandalwood.
MONT BLANC LEGEND SPIRIT MEN:
Montblanc announces Legend Spirit for 2016 as a new version of the original Legend from 2011 with the slogan "Follow Your Spirit." The original fragrance symbolizes timeless elegance and classicism;
Legend Intense from 2013 is its night version; and the new edition is announced as the ultimate timeless and cool scent.
Its aromatic – woody composition begins with a vibrant and refreshing blend of bergamot, pink pepper and grapefruit. A cool aquatic accord rules the heart which is mixed with aromatic tones of lavender and cardamom. The base ends with trendy blonde woods, cashmere, white musk and oak moss.
MONT BLANC LEGEND INTENSE MEN:
Mont Blanc Legend was presented the 2011. Its enhanced edition, Legend Intense, comes out in September 2013. An enhanced version of the original Legend for men Fresh, spicy, sweet, earthy & captivating. The new formula retains the distinctive character of the original, since it was created by the same nose – Olivier Pescheux.
The scent is fresh due to bergamot and spicy with aromas of cardamom and pepperwood. There are also clear and fresh jasmine, white cedar and red apple mixed with pineapple, tonka bean and amber. All of this is wrapped in a new molecule of fresh oak moss, Evernyl, which makes this fragrance unique.
Suitable for fall or winter wear.
MONT BLANC STARWALKER MEN:

Starwalker by design house Mont Blanc was launched in 2005.
Starwalker is described as a Woody Spicy fragrance for men. Starwalker is a semi-sparkling fragrance for gentlemen a Symbol of balance, force and eternity, Conveys robustness of the forms and smoothness of the edges. Starwalker notes consist of top notes of Bergamot, Mandarin Orange, and Bamboo, middle notes of Musk, Cedar, Sandalwood and base notes of Amber, Ginger, Nutmeg, and Fir.
The elegant glass and silver package is very Mont Blanc. Starwalker is recommended for casual daytime wear.