Thierry Mugler Alien Ladies Vial 1.2ml EDP Spray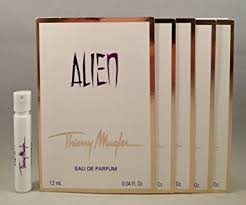 1.2ml Vial Spray – Ideal for keeping in handbags for travelling or for trial purpose.

Alien Perfume by Thierry Mugler, Thierry Mugler Alien perfume is captivating in its unusual composition . It's one of the most simplistic and also one of the most unique perfumes available for women, and it's many fragrance fans' favorite for nighttime wear. Alien perfume contains Indian jasmine top notes, woody scents for the middle notes, and white amber in the base notes. One can also catch green notes and a hint of vanilla. This heady combination makes it almost untraceable, similar to how one would imagine the soil of a foreign planet to smell. Alien fragrance is meant to mesmerize and make the wearer feel out of this world. For fashionable, stylish women everywhere, this perfume is know for its ability to turn heads.

French designer Thierry Mugler employs a startling combination of glamor and new-age class in his clothing collections. It's no surprise that the fragrances created by the famous costume designer are just as distinctive. Alien perfume debuted in 2005, following the huge success of Mugler's Angel perfume that launched in 1992. Designers like Mugler are acutely aware of the importance in naming a perfume; this perfume is synonymous with mystery, radiance, and illumination. Alien attracts rapt attention with not only its name but also its container. The bottle of Thierry Mugler Alien perfume is every bit as distinctive as the scent. The vivid amethyst color seems to fit the concept of an alluring alien. Thierry Mugler achieved a magical combination with both the substance and style of this perfume.