Calvin Klein - CK Eternity Summer Year 2017 For Women Tester Pack 100ml EDP Spray
The new limited edition fragrances from the Eternity line, Eternity Summer and Eternity for Men Summer for 2017, capture "the serenity experienced by a couple in the middle of a desert; all they can feel is the warmth of the hot sun soaking into their skin mixed with the cool airiness of night fall as they watch the sunset."
Eternity Summer is said to be an alluring, fresh floral fragrance that "exudes a natural sensuality." Its top notes of star anise, desert rose and bergamot cross into the heart of osmanthus, saffron and aquatic notes. Vetiver, sandalwood, olibanum and skin musk end the composition.
Available as a 100ml Eau de Parfum.
What is a Fragrance Tester? – CK Eternity Summer Year 2017 For Women 100ml Tester Pack Diff In Box Only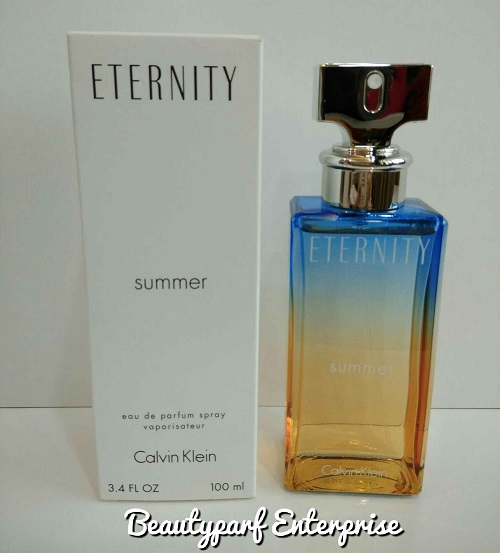 Perfume testers are exacty the same as the orginal fragrance, only without the fancy retail packaging. Testers may come with or without a cap and usually come in a variety of Tester packaging, as originally produced by their manufacturer. Fragrance companies use testers for the purpose of demonstrating their products and therefore the quality of the fragrance is equal in all ways to the retail product. All our perfume and cologne testers are brand new and unused. Take advantage of the considerable savings for foregoing the fancy box.