Chloe L'eau De Chloe Women Tester Pack 100ml EDT Spray
Chloe launches L'Eau de Chloe launches in February 2012.
L'Eau de Chloe is a new light, refreshing and brilliant version of the original Chloe Eau de Parfum from 2008. The fragrance is announced as springy and summery, very crisp and citrusy chypre-floral.
It features sparkling citrus accords reminiscent of refreshing lemonade, accords of rose petals and natural distilled rose water that give a dewy character to the fragrance, and warm and elegant veil provided by patchouli.
The fragrance comes in a distinctive bottle shape for the entire Chloe fragrance line, with light green liquid and silver stopper decorated with a bright green bow.
L'Eau de Chloe is available as 30, 50 and 100 ml Eau de Toilette.
What is a Fragrance Tester? – Chloe L'eau De Chloe Women Tester Pack 100ml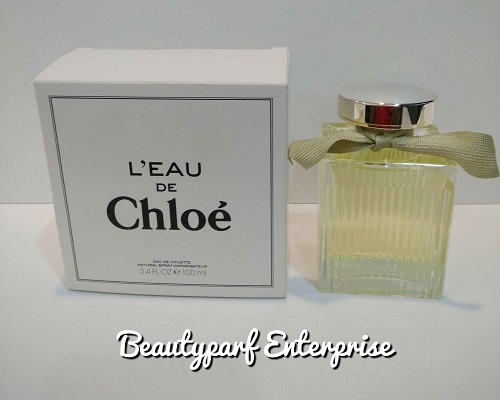 Perfume testers are exacty the same as the orginal fragrance, only without the fancy retail packaging. Testers may come with or without a cap and usually come in a variety of Tester packaging, as originally produced by their manufacturer. Fragrance companies use testers for the purpose of demonstrating their products and therefore the quality of the fragrance is equal in all ways to the retail product. All our perfume and cologne testers are brand new and unused. Take advantage of the considerable savings for foregoing the fancy box.
1.2ml Vial Spray – Ideal for keeping in handbags for travelling or for trial purpose.