Designer Men & Women Top Sellers Refilled In 5ml Spray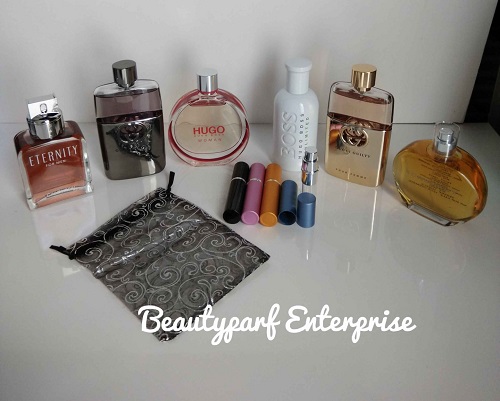 CK ETERNITY FLAME MEN:
Forever Passionate. ETERNITY FLAME celebrates life's journeys through love and intimacy.
An unexpected mix of bright fruits and delicate florals contrasted with oriental facets. Eternity Flame for Women is an expression of love and passion. Each note adds a facet of femininity and sensuality to create a warm, addictive finish.
The scent opens with a fruity blast, highlighted by mandarin. The floral tones begin to show in the middle and base notes as first sweet pea comes into play, before a finish which is led by labdanum.
Eternity Flame for Men is an intense fougère oriental fragrance that has been redefined with hints of amber and leather, creating a scent that is both fresh and warm, sensual and rich.
The scent features sweet top notes of pineapple, herbal notes such as rosemary in the heart, and a base note of labdanum, a sticky resin derived from the rockrose plant. This scent is rounded out with sophisticated, warm notes of amber and leather, creating a strong and masculine scent.
GUCCI GUILTY MEN:

For all of the gentlemen who love and choose Gucci, 2011 will start with a new fragrance - Guilty Pour Homme - aromatic companion of popular female edition Gucci Guilty from 2010.
Guilty Pour Homme , the charismatic alpha male, a true magnet for ladies, is represented in this provocative and seductive composition. The fragrance opens with lavender and lemon, leaving enough space for very appealing scents of orange blossom. Basic tones are supported by warm woody accords of cedar and patchouli, offering a firm but exciting and soft coloring to the whole composition.
HUGO BOSS WOMAN:
Hugo Boss Woman, a feminine, fruity and floral fragrance. Fascinating contrasts, which reflect the minimalistic glamour of the brand, and which redefine the essence of feminine fragrances for the modern woman.
HUGO BOSS BOTTLED UNLIMITED MEN:
Boss Unlimited is a Aromatic Fougere fragrance for men. This is a new fragrance.
Boss Unlimited was launched in 2014. Top note is mint; middle note is pineapple; base notes are precious woods and labdanum
GUCCI GUILTY POUR FEMME EDP:
Made for the woman who shatters expectations, this fragrance imbues with a feeling of power, a sense that she can attain whatever she wants—even the thrill of the forbidden. A sheer, floral-oriental fragrance, it opens with a bright burst of citrus and a dangerous hint of black pepper. This arresting introduction gives way to full-throttle femininity as its heart pulses with fruity and floral notes.

The fragrance dries down to a rich, ambery base with notes of patchouli. The overall effect is young, stylish, and eminently wearable—a daring edge of sexiness and sensuality that captures the essence of Gucci.
BURBERRY CLASSIC WOMEN:
Burberry Classic Woman is created in year 1995.
Its a feminine version of the fragrant duo, called Burberry. Burberry woman is simple and charming, she loves the City she lives in and enjoys the long walks in the streets of London. Perfume is made in striking minimalist design. It starts with succulent and fresh burst of fruits; peach, apricot, cool pear and black currant. The heart is woody-floral; composed of clear and sharp notes of jasmine gently harmonized with the notes of sandalwood and cedar. The drydown is made of musk and vanilla.