Calvin Klein - CK Eternity Air Women Vial 1.2ml EDP Spray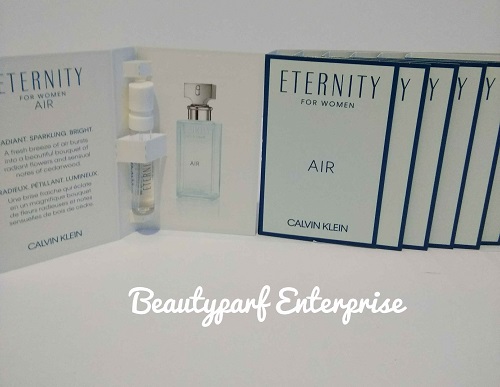 1.2ml Vial Spray – Ideal for keeping in handbags for travelling or for trial purpose.

a fruity floral. "Creating a new, fresh, Eternity Calvin Klein signature, the Eternity For Women Air Eau de Parfum captures all of the different shades of the atmosphere with sky of the sky accord - airy, yet dense - like the soft breath of a pulse.
Astructure built around contrasts, based on an unusual blend of natural airy and energetic sensations. Inciting an exhilarating freshness. It encapsulates the essence of sensuality and the unwavering bond of everlasting love." With grapefruit, black currant, sky of the sky accord, peony, muguet, pear, cedar, ambergris and skin musk.