Chloe Signature EDP Decant In 5ml/10ml Spray
Refill with:

Original Chloe Signature EDP Women fragrance
Capturing the spirit of women, the Chloé vision is not about one singular woman, but rather about the rich and varied personalities of all Chloé women. This fresh, smooth floral fragrance evokes sublime powdery rose. The effect is chic, comfortable, and entirely addictive.
Top notes of pink peony, freesia, and lychee embody subtle freshness. At the heart, midnotes of magnolia flower, lily of the valley, and rose rise to sublimated femininity. A base of velvety elegance comes to fruition through cedarwood, amber, and honey.
Inspired by the details in Chloé's fashion, the flacon's heavy but softly curved and grooved glass reflects femininity and strength. The plated-silver top is embossed with the Chloé mark and adorned with a hand-tied ribbon.
Notes:
Pink Peony, Freesia, Lychee, Magnolia Flower, Lily of the Valley, Rose, Cedarwood, Amber, Honey.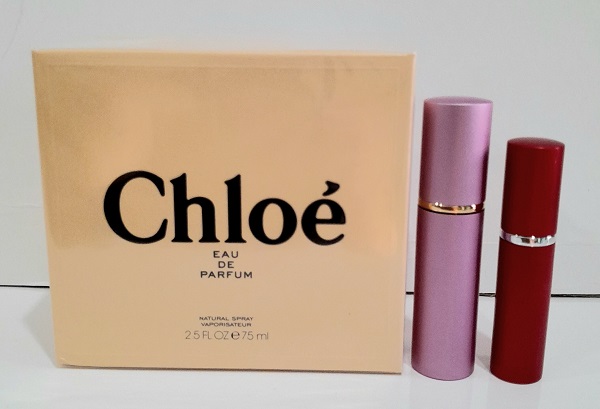 - The best way to try out different scents and a perfect size for traveling, portable and refillable.

- 5ML = 50 SPRAY
- 100ML = 100 SPRAY
- Affordable. Portable. Reusable