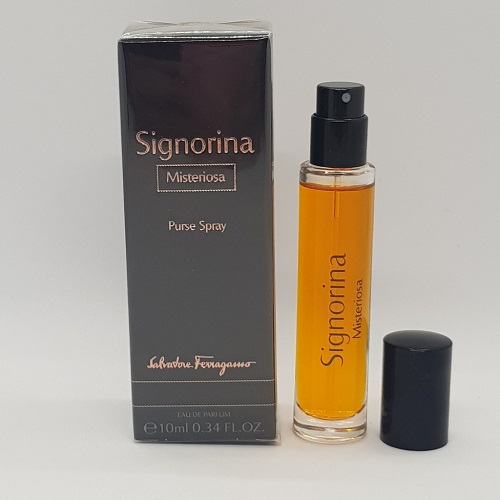 In February 2016, Salvatore Ferragamo launched another fragrance from the Signorina collection, Signorina Misteriosa. It completes the collection as the night-time, unpredictable and mysterious flanker of the scent.

Salvatore Ferragamo celebrates chic young women creating a unique style signature of timeless modernity, creativity and a hint of audacity. A girl playing with her different characters: sophisticated and cheeky, like Signorina Eau de Parfum, elegant and seductive like Signorina Eleganza and unpredictably mysterious likeSignorina Misteriosa
The opening is fresh and bitter with flavors of wild blackberries and neroli. Orange blossom and sensual tuberose contribute to the oriental - fruity character of the scent. Patchouli gives a sophisticated touch, while black vanilla mousse marks the base.
The fragrance is available as Eau de Parfum.