Calvin Klein - CK One Gold For Unisex Vial 1.2ml EDT Spray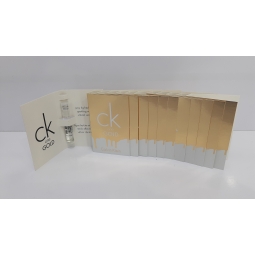 1.2ml Vial Spray – Ideal for keeping in handbags for travelling or for trial purpose.
CK One that was launched in 1994 marked the teenage generation of the 90s and 2000s. The new aroma for her and for him, coming out mid-2016, is a modern interpretation of the iconic fragrance conveying the message: "Be brave. Stand out from the crowd. Everything you touch exudes gold. "
CK One Gold is seasonal, youthful scent of juicy and fresh woody character which supposedly combines the power of both sexes.
Energetic freshness in the top notes is achieved by an unusual blend of fig, bergamot and sage. The luminous heart of neroli is complemented by flowers of jasmine and violet. Sunny vetiver gives depth to the perfume, leaving a sensual and warm trail on the skin together with notes of patchouli and guaiac wood.