Marc Jacobs Dot Women Vial 1.2ml EDP Spray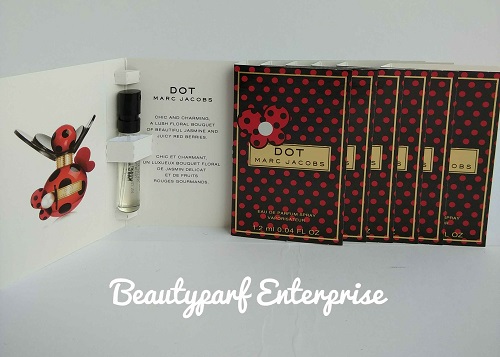 1.2ml Vial Spray – Ideal for keeping in handbags for travelling or for trial purpose.

Marc Jacobs Dot. The new fragrance continues the cheerful game of petals decorated by modern and characteristic flacons of the Jacobs collection. Polka dots embellish red petals and a ball on the cap, which looks like ladybug in the heart of a flower.
The fragrance has been introduced in March 2012 as floral-fruity, surrounded with exotic notes of coconut and wrapped in soft vanilla embrace.
Notes:
Red Berries, Dragonfruit, Honeysuckle, Jasmine, Coconut Water, Orange Blossom, Vanilla, Driftwood, Musk.
Style:
Chic. Energetic. Upbeat.